Bundle and Save Up to $600
Get Better Water at Every Tap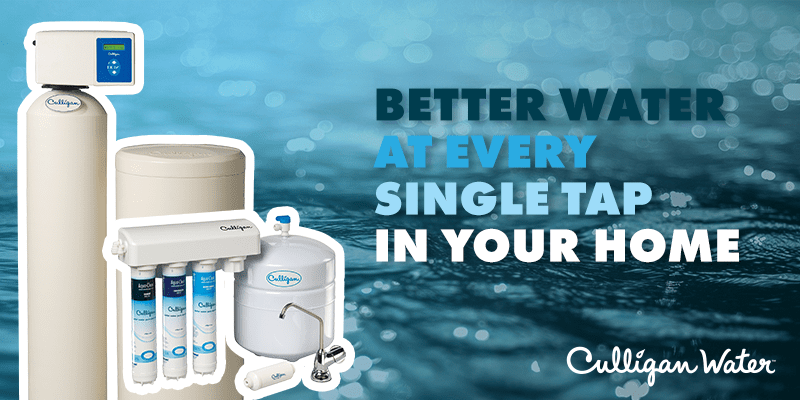 Benefits of the Culligan High Efficiency Water Softener:
Reduces soap residue on hair and skin
Leaves clothes brighter and soft to the touch
Makes household cleaning easier and less expensive
Increases the lifespan of water-using appliances
Benefits of a Culligan Reverse Osmosis System:
Provides advanced filtration for specific water problems and reduces harmful contaminants like lead and arsenic
Eliminates unpleasant tastes and odors
Fits easily under a sink and can be plumbed through your fridge, sink or ice maker
Saves you money on single-serve water bottles and reduces your carbon footprint
Save water in your home by upgrading to a Culligan High Efficiency (HE) Water Softener! Advancements in Culligan's category-leading technology have improved salt and water efficiency by 46% — more than any other softener brand.
For a limited time, save more than the environment. Receive up to $600 off when you bundle and purchase a Culligan HE Water Softener, Culligan Reverse Osmosis (RO) Drinking Water System and our Sterling Customer Care Plan!
Limited-time offer. Dealer participation varies. See dealer for details. Contaminants may not be in your water. ©2021 Culligan International Company.
Learn more about how you can have better water.
Latest
Blog Posts
Tastier, more vibrant dishes will have your friends and family wondering what your secret is.
Are Water Treatment Systems Worth the Investment? Many homeowners turn to water treatment systems to improve their water's quality and...
Highly recommended reaching out to Angela Parrett in Eau Claire for all your great tasting water needs.

Tiffany Garbaciak
- Culligan Customer