HANS™ Premium Water System by Culligan®
Filtered water at every tap & fixture in your home.
Premium Filtered Water Solutions
A HANS™ Premium Water System by Culligan® protects your whole home against dangerous contaminants caused by industrial runoff, disinfection byproducts, radioactive chemicals and other sources. This whole home filtration solution also removes bad smells, high iron content, acid and even hardness from your water. Our premium, four-stage system is the best way to provide safe, filtered water at every tap in your home. Never worry about your water again when you buy a HANS™ Premium Water System by Culligan®!
---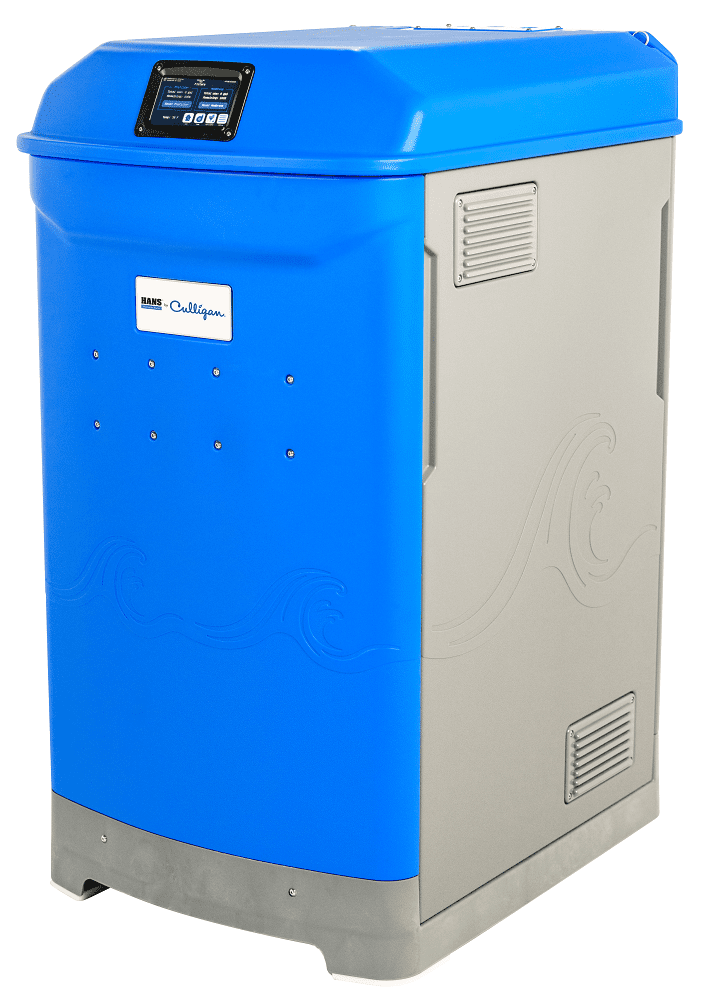 The HANS™ Premium Water System by Culligan® uses a multi-stage filtration process that leaves water cleaner than federal requirements and health guidelines. Studies have found it reduces dangerous contaminants like lead, PFOAs & PFOS, arsenic, nitrates and chromium 6+ by up to 99%.
Water filtration involves removing small particles like sediment, manganese, iron, chlorine and gases like hydrogen sulfide from the water. Water filters use both physical and chemical processes to filter out unwanted contaminants. The physical process involves running water through a media that retains the contaminants while allowing the water to pass. The chemical process uses a reaction called adsorption, in which the atomic charge of the carbon and other media causes the contaminants to abandon their bond with the water and chemically attach to the media.
---
HANS™ Premium Water System by Culligan® Benefits
Four stage filtration - sediment filter, contaminant filter, membrane and remineralization
Water use monitoring with an intuitive touch screen
24/7 water quality monitoring
The best support team in the business
Long-lasting filters, lasting a year or longer
Reduces dangerous contaminants like lead, PFOAs & PFOS, arsenic, nitrates and chromium 6+ by up to 99%
Removes hardness, without any salt
Neutralizes acidic water and removes iron to prevent staining and corrosion
Removes unpleasant odors like chlorine and sulfur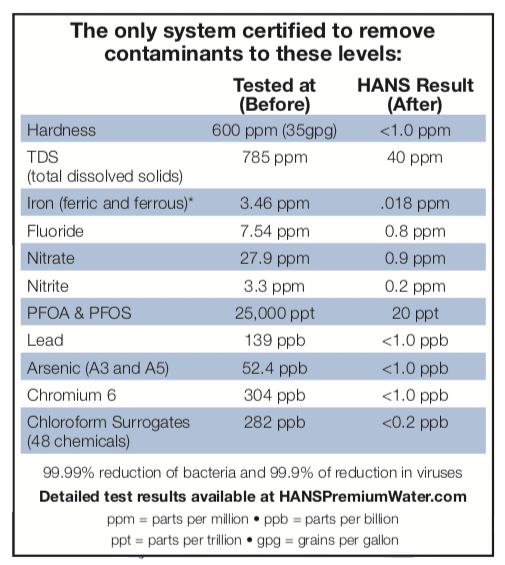 ---
Learn more about HANS Premium Water Systems by Culligan
More info on HANS™ Premium Water System by Culligan®
Latest
Blog Posts
Give the gift of great-tasting, high-quality water this year! Get started with a free water test from your local Culligan
While there are many ways to improve your home's drinking water, there are also options you can explore to keep
They were very good to work with very happy with there service very friendly people who can get you the right equipment for your water. I am very happy with the results

Angie Olson
- Culligan Customer