Culligan of Waupaca
You could give your people Culligan Water.
Your Waupaca Water Experts
Sterling Culligan Water has been a part of the central Wisconsin community for nearly 70 years. We're proud to serve the counties of Waupaca, Waushara, Portage and Outagamie, which include the communities of Waupaca, Weyauwega, Fremont, New London, Clintonville, Manawa, Marion, Iola, Amherst, Stevens Point, Plover, Plainfield, Wautoma, and Wild Rose, to name a few.
Water Problems
Need after hours or emergency service? Call our 24/7 service line at 715-258-2242.
Hardness, high-iron and acidity are the biggest water problems in the central Wisconsin area, but in the last two years we have seen a rise in nitrates and arsenic as well.
About Sterling Culligan Water of Waupaca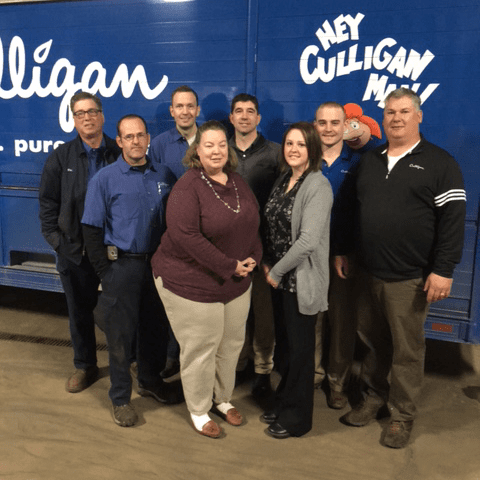 Sterling Culligan Water began in October of 1949, when W. Sterling & Jo Tangley and Frank Decker formed a partnership and named their new venture Culligan Soft Water of Pierce County. They established a new Culligan franchise and built a plant in Ellsworth, WI. The business grew steadily for the next 25 years. During those early years, Sterling and Jo's son, Peter, grew up and actively worked in the business. After 35 years as a Culligan dealer, Peter and his wife Karol passed ownership to their son, Bret, who grew up and actively works in the business. He's held a variety of roles since 1982, serving as president since 2005.

Sterling Culligan Water is an award-winning Culligan and Pure Water Technology (PHSI) franchise dealer, known for exemplary customer service, expert water professionals and affordable water treatment solutions. We are a third-generation, family-owned company, with values based on integrity, safety, teamwork, and continuous improvement. Our goal is to continue to create, keep and grow customers. Three of our stores are located in the northern half of Wisconsin, serving Wausau, Eau Claire, Waupaca, Stevens Point and their surrounding communities. We also have two stores located in central Minnesota, serving Sauk Centre, Willmar, Little Falls and their surrounding communities. Our dealerships are locally run by employees who are a part of the communities that they serve. Sterling Water's mission is to exceed our customer's expectations by providing goods and services of the highest standard.
The Waupaca dealership was established in the 1950s by Irv Koslowski. Patrick Canney and Dick Martin purchased the dealership in 1986. In 1996, the dealership moved from its downtown location to a new building, constructed at our current location. We became part of the Sterling Culligan Water family in December of 2014.
Community Involvement
At Sterling Culligan Water of Waupaca - Chain of Lakes we believe in supporting community non-profits. We're proud to support and donate water to Waupaca area Triathlon, Theda Care Fun Run, Waupaca Fire Department, Weyauwega Fire Department, American Heart Association Portage County Heart Walk, Waupaca Learn to Hunt, Waupaca HS SADD-post prom, Cystic Fibrosis Foundation 5k Great Strides Walk, the Union Thresheree-Symco and other fundraising efforts.

---
Reviews for Sterling Culligan Water of Chain of Lakes
---
08/14/2021
I apologize for the previous rating. It was a computer glitch. We have always had a good experience with the service that Culligan provides us.
---
02/11/2021
Was upfront on cost. Installation was flawless. Follow up was great and tweaking it to get it just right was simple as calling their office. Office personnel were very polite. Would reccomend to anyone looking to get rid if hard water.
---
03/25/2021
On time delivery, working around my work schedule. New London water is horrible, even with a tap filter, it's been less than a week my plants are looking healthier. No more hauling bottles of water upstairs for me. Better for the environment
---
01/12/2021
Friendly and helpful staff who are quick and efficient to help with the customer's needs for clean and tasty water!
---
02/19/2021
Very good service, no hassle worries. Only do what is needed not what they can get more cash for. 😊
---
---
Hey Culligan!
Hours
Monday: 7:30 AM – 4:30 PM
Tuesday: 7:30 AM – 4:30 PM
Wednesday: 7:30 AM – 4:30 PM
Thursday: 7:30 AM – 4:30 PM
Friday: 7:30 AM – 2:00 PM
Saturday: Closed
Sunday: Closed
Areas We Serve
Almond, Amherst, Amherst Junction, Appleton, Bancroft, Bear Creek, Berlin, Big Falls, Clintonville, Coloma, Custer, Dale, Fremont, Greenville, Hancock, Hortonville, Iola, Junction City, King, Larsen, Manawa, Marion, Nelsonville, New London, Ogdensburg, Pine River, Plainfield, Plover, Poy Sippi, Readfield, Redgranite, Rosholt, Saxeville, Scandinavia, Shiocton, Stevens Point, Waupaca, Wautoma, Weyauwega, Wild Rose
Review on Facebook
Learn more about how you can have better water.
Latest
Blog Posts
Convenient, tasty and sustainable, a Culligan bottleless water cooler is a great drinking water solution for your home or office.
From deep-cleaning your floors to reviving your garden, spring home improvements start with your water. So why wouldn't you use...
Great water from my tap and great service! Highly recommend!

Janet Harvey
- Culligan Customer