Culligan of Eau Claire
You could give your people Culligan Water.
Your Eau Claire Water Experts
Sterling Culligan Water has been a part of the Chippewa Valley and northwestern Wisconsin community for nearly 70 years. We're proud to serve the counties of Eau Claire, Chippewa, Dunn, Clark, Taylor, Buffalo and Pierce, which include the communities of Eau Claire, Menomonie, Chippewa Falls, Bloomer, Eleva, Augusta, Boyceville, Colfax, Stanley and Thorp to name a few.
Water Problems
Need after hours or emergency service? Call our 24/7 service line at 715-834-9431.
Hardness, high-iron and acidity are the biggest water problems in the central Wisconsin area, but in the last two years we have seen a rise in nitrates, arsenic, tannins and suflur as well.
About Sterling Culligan Water of Eau Claire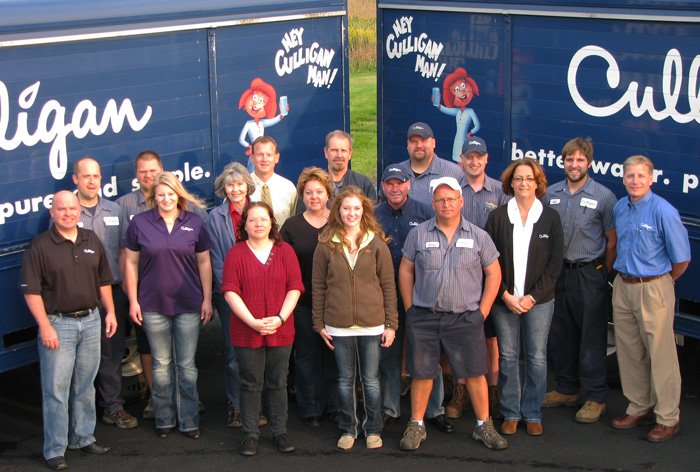 Sterling Culligan Water began in October of 1949, when W. Sterling & Jo Tangley and Frank Decker formed a partnership and named their new venture Culligan Soft Water of Pierce County. They established a new Culligan franchise and built a plant in Ellsworth, WI. The business grew steadily for the next 25 years. During those early years, Sterling and Jo's son, Peter, grew up and actively worked in the business. After 35 years as a Culligan dealer, Peter and his wife Karol passed ownership to their son, Bret, who grew up and actively works in the business. He's held a variety of roles since 1982, serving as president since 2005.

Sterling Culligan Water is an award-winning Culligan and Pure Water Technology (PHSI) franchise dealer, known for exemplary customer service, expert water professionals and affordable water treatment solutions. We are a third-generation, family-owned company, with values based on integrity, safety, teamwork, and continuous improvement. Our goal is to continue to create, keep and grow customers. Three of our stores are located in the northern half of Wisconsin, serving Wausau, Eau Claire, Waupaca, Stevens Point and their surrounding communities. We also have two stores located in central Minnesota, serving Sauk Centre, Willmar, Little Falls and their surrounding communities. Our dealerships are locally run by employees who are a part of the communities that they serve. Sterling Water's mission is to exceed our customer's expectations by providing goods and services of the highest standard.
Community Involvement
At Sterling Culligan Water of Eau Claire we believe in supporting community non-profits. We're proud to support and donate water to Special Olympics, Relay for Life, Little League and Babe Ruth Baseball programs, YMCA, local hospitals and various fundraisers and other fundraising efforts.

---
Reviews for Sterling Culligan Water of Western Wisconsin
---
11/18/2021
They are always fast to respond and fix any issues we have. Great customer service.
---
10/26/2021
Highly recommended reaching out to Angela Parrett in Eau Claire for all your great tasting water needs.
---
06/03/2021
We at Rodney Steward State Farm have really enjoyed our Culligan water coolers. If we run low on water due to higher usage, we just call and they come right out for us. I highly recommend them
---
03/29/2021
After having Culligan reverse-osmosis equipment installed for our well water, our home has extremely clean water. Everyone that I have interacted with was entirely cooperative and helpful. I like the extreme efficiency of the quarterly deliveries of consumable supplies (basically salt). When they deliver that, they also perform home-water testing, so that we can be sure that the system is still working properly.
---
03/23/2021
Water tastes great and the professionalism during and before the installation was awesome! Thanks Culligan.
---
---
Hey Culligan!
Hours
Monday: 7:30 AM – 5:00 PM
Tuesday: 7:30 AM – 5:00 PM
Wednesday: 7:30 AM – 5:00 PM
Thursday: 7:30 AM – 5:00 PM
Friday: 7:30 AM – 2:00 PM
Saturday: Closed
Sunday: Closed
Areas We Serve
Altoona, Arkansaw, Augusta, Bloomer, Boyceville, Boyd, Cadott, Chippewa Falls, Colfax, Cornell, Downing, Downsville, Durand, Eau Claire, Eau Galle, Eleva, Elk Mound, Elmwood, Fairchild, Fall Creek, Gilman, Hannibal, Holcombe, Humbird, Jim Falls, Jump River, Knapp, Lublin, Menomonie, Mondovi, New Auburn, Osseo, Owen, Ridgeland, Rock Falls, Sand Creek, Spring Valley, Stanley, Strum, Thorp, Wheeler, Willard, Withee
Review on Facebook
Learn more about how you can have better water.
Latest
Blog Posts
When it comes to water treatment systems, Culligan Water offers a better return on investment than any big box store....
Are Water Treatment Systems Worth the Investment? Many homeowners turn to water treatment systems to improve their water's quality and...
Excellent customer service and pricing!

Inga Roth-Kennedy
- Culligan Customer